Posted:
May 4th, 2017 |
Author:
THI
|
Filed under:
Broadsheets
|
No Comments »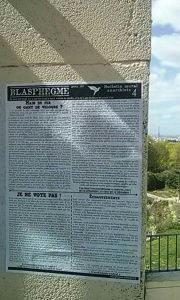 Two texts from Blasphegme #4, a mural journal that started appearing around Paris on April 4. The first text is an individualist rejection of electoralism and the society that goes with it and the second is a brief round up of attacks against electoral infrastructure in the month before its publication.
I don't vote!
Source: https://blasphegme.noblogs.org/2017/04/je-ne-vote-pas/
I don't vote. Because I don't want to choose a master, to choose who will decide in my place what's right for me, who will force me to respect their choices, who will present those choices as my own. I don't want the majority to determine the conditions of my servitude, I don't want to the cattle to build the fences that enclose them and select those who will rule over me as well, regardless of what I think.
I don't vote because I don't want the world they force on us. I don't recognize the idea of the nation, of peoples, or of citizenship, because states always manage to construct identities that give the illusion of a unified population. My nationality, the language I speak, and the colour of my skin in no way determine who I am, and I don't recognize the borders of the state in which chance saw me born. In the same way, I don't want to hear about any "common good", because I don't want to be part of any community – I don't want to be bound to anyone and I want to choose those with whom I build my life. Read the rest of this entry »
---